Have you ever dreamed of creating a blog but were not sure where to start? Do you think you lack the tech skills to begin? Do you already have a blog but feel stuck? Not sure how to grow your site more? I used to be you and can help you overcome those obstacles. With this course, you'll be a blogging superstar. There are a lot of "make money online" courses on the Internet – programs that will show you how to succeed at blogging, become famous, and generate a full-time income. They promise riches, instant success, and a mastery of social media in just a few months.
At Superstar Blogging, we promise something even better: a deep understanding of the strategies it takes to create a successful long term online business online. You'll learn skills that will create something valuable – a website that helps others, brings you in money, and let's you share your passion and expertise with the world. This program is for those who are serious about blogging and want to make a difference. If that is you, keep reading. If it's not, this course isn't for you.

What This Course is About
My name is Matthew Kepnes and I am the founder of Superstar Blogging. I run the website Nomadic Matt, the world's top travel blog. I started blogging in 2008 with no web skills. I knew nothing before I started and simply learned along the way. Despite hardships, I learned the tips and tricks necessary to become a successful blogger. Along the way I took a number of blogging courses but none of them ever lived up to my needs as a new blogger. The teachers weren't attentive, there wasn't a community of people to connect with, and everyone sold the same "get rich quick scheme." They left me dejected so I sought the advice of friends and networked with other bloggers. They became my mentors. So when people started asked me about blogging, I wanted to create course that mirrored my mentorships and fostered real skills and developed ethical, helpful, and world class bloggers. I wanted to create a school not a scheme.
This course teaches you proven tools and methods grow your traffic, readership, and income. We will teach you what works, what doesn't, and how to avoid common rookie mistakes so you can whiz past the competition and become a blogging superstar. We'll reduce the learning curve and get you success quicker. My advice has been featured in the following places BECAUSE IT WORKS: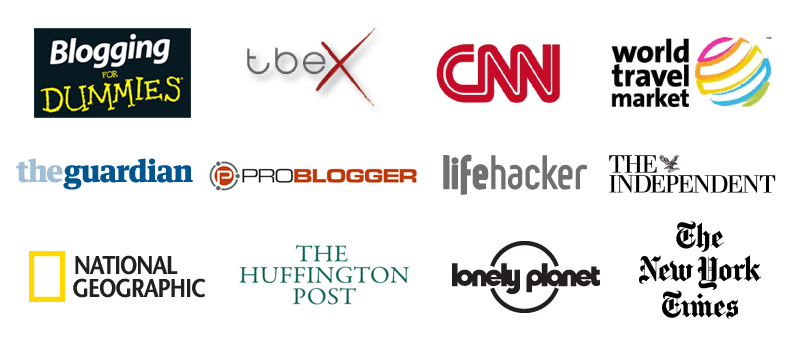 When you leave this course, you will have all the skills to be a successful blogger with a large readership and income. This course will take your new or existing blog and hobby to the next level.
What you get with this course:
35 detailed lessons covering the following topics:

Branding
Design
Media mentions
Monetization
Product creation
Sales page and conversion testing
Search Engine Optimization
Social Media
Working with PR and Brands

Copies of How to Build Your Blog and How to Make Money with Your Blog (the course materials)
An active forum for group support from other classmates and your course instructors!
Expert interviews from top bloggers to help grow your business
Monthly webinars on various topics of blogging and Q&As to further expand your blog.
One on one Skype calls with your teachers
Online resources and suggested reading
Unlimited e-mail support
Hands on technical help on building your blog
Lifetime access
Three Course Levels Offered
Blogging 101 (Beginner)
In this beginner course, you'll get access to everything listed above to build your blog at your own pace. This DIY course (with guidance from your teachers) is meant for people who want try to build their blog on their own and go at their own pace. Perfect for those starting out.
Blogging 102 (Intermediate)
In this intermediate course, you get everything in the beginner do-it-yourself course, plus 3 hours of technical Skype calls and 2 hours of marketing and strategy help. This course is meant for people wanting a little bit more guidance and hands on help.
Blogging 103 (Advanced)
In this advanced course, 12 weeks of one on one, hands on help. Weekly Skype from both your teachers keep you in on track to take your blog to new heights. This hands on mentorship program is meant for bloggers with established blogs looking to move to the next level. This program is application only.
Included Over 3 Hours of Expert Interviews
Rand Fishkin
Rand Fishkin is the founder of Moz.com, the best SEO website in the world, and an expert on search engine optimization. Rand tells us the secrets of ranking higher in search, getting links, and a lot more in this interview.
Corbett Barr
Corbett Barr of ThinkTraffic.net is a leading expert on building and marketing blogs. Corbett joined me for an exclusive interview to discuss how to avoid beginner pitfalls, build relationships, and grow your audience.
Derek Halpern
Derek Halpern of Socialtriggers.com is a leading expert in Internet marketing. We sat down to talk about advanced techniques in gaining traffic, getting media attention, and how he built a 70,000 person mailing list in 18 months.
Pat Flynn
Pat Flynn of Smartpassiveincome.com discusses newsletter marketing and how to monetize your blog through affiliate marketing without being a spammer and his journey to making over $50,000 a month doing so.
Jodi Ettenberg
Jodi Ettenberg of LegalNomads.com and author of "The Food Traveler's Handbook" talks about her journey into self-publishing and how to use your blog to get freelance writing gigs. She has been on The Daily Beast, CNN, The New York Times, and BBC.
Geraldine DeRuiter
Voted one of the best blogs of 2012 by Time Magazine, Gerladine DeRuiter runs TheEverywherist.com where her snarky, witty, and personal writing has got her a large and devoted following. Geraldine and I discuss finding your voice and writing better.
Who Is This Course For?
This course is for people who are looking to build a long term online business online that helps people be a better person and allows you to connect with people who share your passion. If you want to build something long-term, help people, share your knowledge, be an expert, and earn a full time living doing so.
This course is NOT for people who are looking to get rich quick, sell anything to make a buck involve yourself in shady business practices, and overall, just do unnice, deceptive things.
Testimonials from Former Students
"I highly recommend this course if you're serious about building a great blog. Without Matt's guidance I would've gone completely in the wrong direction. Matt's advice is invaluable and worth far more than the cost of the course." – Dylan
"Matt's strength lies in his attention to detail and helping you to create a focus for your blog. It's something he cares about, and he's good at getting you to care about it too. As someone with an existing blog, these have been invaluable lessons in moving my blog past just another website, and turned it into something that can grab people's attention and build an audience." – Andy
"The course with Matt was really an invaluable one. His knowledge and advice has helped set me in the right direction for success; a direction I was far from when I began the course. His one-on-one classes offer an amazing opportunity to learn from one of the best. Matt shared a lot of the good, bad and the ugly to help me improve my site's design, content and SEO. If you're trying to be a successful blogger, don't pass this up." – Elaine
"Matt really knows the ins and outs of the blogging world and has put together a great course. His course provided me with valuable information that will continue to push my blog in the right direction. It was a great investment!" – Jenna
"Matt gave me the tools and direction to design a travel blog that was not only appealing to the eye but welcoming to new readers. He pushed me to focus on my niche and expand on the important factors of building an audience to keep people coming back. Using his advice on everything from SEO to social media I now have a growing audience and am confident I am headed in the right direction." – Clint
"If it wouldn't have been for Matt's mentorship program, I would have started travel blogging in the completely wrong direction. From day one, Matt pointed me in the right direction. He not only equipped me with the tools to run a successful travel blog now, but also with the knowledge I will need in the future. Matt's advice and guidance was invaluable and his mentorship program is a must for anyone serious about getting into travel blogging." – Stephen
About Your Teachers
Matt Kepnes runs the award winning travel website Nomadic Matt. His blog is an industry leader and one of the largest on the Internet. His website reaches over 700,000 visitors each month, earns him a six figure income, and got him a book deal with Penguin books. His blogging advice has been featured on Problogger, National Geographic, The Independent, AOL Travel, The Huffington Post, and the book Blogging for Dummies.
Chris Richardson is a WordPress wizard whose only job is to help you build your website and walk you through the technical side of blogging. Chris will help you understand what's under the hood for the duration of the course. He is the founder of RTW Labs, tech manager for Nomadic Matt, and a ninja when it comes to fixing problems and walking people through the technical side of blogging.
Purchase
BEGINNER

INTERMEDIATE

ADVANCED

Lifetime access
How to Build a Blog ebook
Make Money with your Blog ebook
35 in-depth lessons on blogging
Suggested resources and books
Expert Interviews
Member Forum
Monthly webinars
WordPress installation help
3 hours of tech help with Chris
2 hours strategy with Matt
12 weeks of mentorship
*****THE COURSE IS CLOSED TO NEW STUDENTS*****